Cabo Verde

nha terra…

 
Cape Verde, officially The Republic of Cape Verde, is an island country, spanning an
archipelago of 10 islands

located in the

central Atlantic Ocean

, 570 kilometres off the coast of Western Africa.
The archipelago of Cabo Verde is the thinking traveller's Canaries.
The bone-white, empty beaches, soaring volcanoes and lush tropical vegetation on these ten islands were kept a secret for years (although Cabo Verde always attracted a few Portuguese holidaymakers, thanks to the colonial connection), but now the
year-round sun

and unique blend of African, Portuguese and Brazilian cultures is even attracting package tourists.
Visit
Sal

, famous for its 350 days of sunshine, one of the most popular resort hubs thanks to the lovely beaches of Santa Maria; on

Boa Vista

you can climb stunning dunes and dive to see marine turtles, and explore the 'tropical Lisbon' of Sal Rei, with its cobbled streets.  On

São Vicente

you find the perfect mixture of citylife, white beaches and mountains.
Santo Antão

is developing rural tourism, great if you want to meet locals and get away from the beaches.

Santiago

, in the leeward island chain to the south, is best known as the island where Darwin made landfall during his epic Beagle voyage.
The islands are of volcanic origin and while three of them (Sal, Boa Vista and Maio) are fairly flat, sandy and dry, the remaining ones are generally rockier and have more vegetation.

The name of the country stems from the nearby Cap Vert, on the Senegalese coast, which in its turn was originally named "Cabo Verde" when it was sighted by Portuguese explorers in 1444, a few years before the islands were discovered.
The official language is Portugese, but people speak
Creole.

  Let's start your first lesson here:

Hello  – Oi

Good morning – Bom dia

Good afternoon – Boa tarde

Good night – Boa noite

Good bye – Tchau

please – por favor

thank you – obrigado (if you are a man) – obrigada (woman)

excuse me – com liçensa

pharmacy – farmacia

petrol station – Posto gasolina

beach – praia

airport – aeroporto

clinic – clinica

bathroom – casa de banho

main square – praça

bread – pão

eggs – ovos

cheese – queijo

milk – leite

sugar – açucar

salt – sal

pepper – pimentão

vegetables – legumes

fruit – frutas

chicken – galinha

fish – peixe

beef – carne de vaca

lobster – lagosta

beer – cerveja (try the local Strela beer!)

wine – vinho (try the local Fogo wine!)

water – água

juice – sumo

ice cream – gelado

where is…? – onde é…?

how much is…? – quanto custa…?

can you help me? – bo pode ajudam?

what time is it? – quanto hora esta?

i don't have… – katem…

the numbers: 1-um, 2-dois, 3-três, 4-quatro, 5-cinco, 6-seis, 7-sete, 8-oito, 9-nove, 10-dez, 100-cem, 1000-mil
Practical information
When to go

? 
Cape Verde is
pleasant year-round

. Even during the so-called rainy season from mid-August to mid-October, weeks can go by without a downpour. Thanks to cooling ocean currents and offshore winds, Cape Verde has the lowest temperatures of any country in West Africa, and also some of the most moderate, ranging from a

minimum

night-time average of

19°C

in February to a

maximum

daytime average of

29°C

from May to November. 
Summer temperatures, especially in the northern islands, can be cooler than in Europe, though the southern islands, especially Fogo, can get hot and sticky. From December to March you may need a sweater in the evenings, especially at higher altitudes. Winter months are also marked by gusty winds, which blow in dust all the way from the Sahara.
Money
The unit of currency is the
Cape Verde escudo

(CVE), divided into 100 centavos. It's not a hard currency, but it's stable; in January 2002, it was pegged to the euro. Most businesses accept US dollars and euros.
 
Banks

are found in all the main towns and even some of the smaller ones, and most have ATMs that accept local bankcards and Visa.
Many also change travellers cheques and cash in all the main currencies (except the West African CFA). Many also give cash advances with a
Visa card

.
Currency and Exchange
Cape-Verde Escudo (CVE)
1 EURO = 110 CVE
1 USD (July 2012) = 80 CVE (not accepted in many places)
1 GBP (July 2012) = 140 CVE (not accepted in most places)
Exchange places
Airports of Sal, Praia, S. Vicente and Boavista, banks, main hotels.
Banks
Banco Comercial Atlântico BCA (all municipalities),

Banco Cabo-verdiano de Negócios BCN ( main cities and airport)

Banco Interatlântico BI (all islands)

Banco Comercial de Negócios (Praia)

Caixa Económica de Cabo Verde (all islands)

Caixa de Crédito Rural (Praia), Banco Insular.

Novo Banco (Praia, São Vicente)

Quota exchange: open 24h at the airport of Sal.

Working schedule: from 8:00 to 15:00 (from Monday to Friday).
Cape Verde Bank Holidays:
January 1– New Year's Day
January 20– Heroes Day
May 1– Labour Day
July 5– Independence Day
August 15– Our Lady of Grace Day
November 1– All Saint's Day
December 25– Christmas Day
Carnival Opening Day
Good Friday.
Visa Cards and Master Cards

are accepted only in very upmarket establishments!
Visas
All visitors, except Cape Verdean nationals, require a visa. In the USA, mail your passport, one photo and US$40 to the Cape Verdean embassy in Washington, DC. Visas are issued routinely for stays of up to five years. Within West Africa, Dakar, in Senegal is one of the few places where you can get a visa. If there's no Cape Verdean embassy, inquire at the nearest Portuguese embassy.
That said,
a tourist visa can be obtained on arrival at the airports and ports of Praia and Sal

, and will cost about 4000 CVE. Your allowed stay may be short, however, so after arriving, you may need

to

go to a police station on any island, or the Direcção de Emigrãçao e Fronteiras (Rua Serpa Pinto, Platô, Praia, Santiago), and renew it (a maximum of 180 days). In practice, visas are usually issued on the spot (particularly if you're polite and smiling!). Note that there's a fine of 15000 CVE if you let your visa expire.
Visa extensions:
For an extension of more than a week, you need, in theory, to fill in a form, supply a photo and lodge the application at the Direcção de Emigrãçao e Fronteiras (Rua Serpa Pinto, Platô, Praia, Santiago), which will take a few days.
Emergency services (telephone)
Hospital – 130

Fireman – 131

Policie – 132

Judicial Policie – 8001134
Shopping
Crafts in all islands, with particular incidence in Mindelo – São Vicente.
Tropical fruits and artifacts in Santiago.
Grogue – the local rum, liquors, Fogo wine and coffee in Mindelo.
Fresh goat cheese can be found on all the islands.
Opening hours of the shops:
Monday to Friday: 09:00 -12:30/ 15:00 – 18:30

Saturday: 09:00 – 13:00
Electrical power

220 V
Gastronomy
Many restaurants will have live, generally Cape Verdean music at least one evening a week. If you like fish, you will be in paradise with an abundance of freshly caught seafood including lobster, tuna, octopus, garopa and a wealth of other delicacies to choose from.
The smaller islands including Boa Vista will not have the same choice of restaurants as Praia (capital of Praia), Sal and São Vicente, and there may be little choice on the menu with the only option being to eat what they have prepared that day. However, they will want to do their best to please you but they won't be in a terrific hurry.
Don't be surprised at the slow service, just relax and enjoy the atmosphere.
National dish

: cachupa (corn, beans, porn manioc, sweet potato and cabbage).


Other specialties

: coal grilled meat fish and sellfish, djagacida, botchada, modje de capóde, xerem, cuscus, shellfish, shrimp, barnacles, lobsters, octopus and conch.


Tropical fruits

: papaya, banana, mango, coconut and other seasonal.


Drinks

: grogue (the local rum), punch, liquors, fruit juices, beer (national and imported), wine (national and imported), whiskey and other (imported).
Telecommunications
From anywhere in the country it is possible to establish an international communication, whether by phone, fax, telex or internet. The mobile network is already installed and covers almost 100% of the country.
Useful numbers: "102″ (national information); "111″ (international calls with operator assistance); "119″ (calls to Portugal, to be charged at destination).
National Holidays
Banks and shops closed:
1st of January – New Years Day

13th of January – Democracy and Freedom Day

20th of January - National Heroes Day

25th of March – Ash Friday

27th of March – Easter

1st of May - Labour Day

5th of July - Independence Day

15th of August - Our Lady of Grace Day/Assumption Day

1st of November - All Saint's Day

25th of December - Cristmas

The Carnaval's Tuesday and Friday are holidays
Average Prices
Water (1,5l) 120 CVE

Coffee 60 CVE

Telephone Card (150 impulses) 1000 CVE

CD'S 1500 CVE

Beer 150 CVE (national) / 250 CVE (imported)

Haircut 250 CVE (gentlemen) / 800 CVE (ladies)

Pack of cigarettes 250 CVE
Please check the other topics of this website for more practical tips! 
History
Before the arrival of Europeans, the Cape Verde Islands were uninhabited. The islands of the Cape Verde archipelago were discovered by
Italian and Portuguese navigators

around 1456. According to Portuguese official records the first discoveries were made by Genoese born Antonio de Noli, who was afterwards appointed governor of Cape Verde by Portuguese King Afonso V. Other navigators mentioned as contributing with discoveries in the Cape Verde archipelago are Diogo Gomes, Diogo Dias, Diogo Afonso and the Italian Alvise Cadamosto.
In 1462,
Portuguese settlers

arrived at Santiago and founded a settlement they called Ribeira Grande (now called

Cidade Velha

, to avoid being confused with the town of

Ribeira Grande

on the Santo Antão island). Ribeira Grande was the first permanent European settlement in the tropics.
In the 16th century, the archipelago prospered from the
t

ransatlantic slave trade.

Pirates occasionally attacked the Portuguese settlements.
Sir Francis Drake

, a British corsair, sacked Ribeira Grande in 1585.  After a French attack in 1712, the town declined in importance relative to nearby Praia, which became the capital in 1770.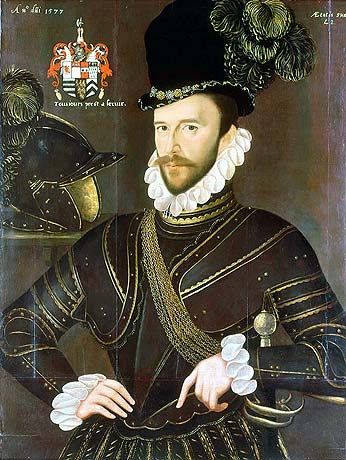 With the decline in the slave trade, Cape Verde's early prosperity slowly vanished. However, the islands' position astride mid-Atlantic shipping lanes made Cape Verde an ideal location for re-supplying ships. Because of its excellent harbour, Mindelo

,

on the island of São Vicente

,

became an important commercial centre during the 19th century.

In 1956,
Amilcar Cabral

, and a group of fellow Cape Verdeans and Guineans organised (in Portuguese Guinea) the clandestine African Party for the Independence of Guinea and Cape Verde (PAIGC). On

June 30

, 1975, Cape Verdeans elected a National Assembly which received the instruments of

independence from Portugal

on July 5, 1975.
Geography
The Cape Verde archipelago is located in the
Atlantic Ocean

, approximately 570 kilometres (350 mi) off the coast of West Africa.
The country is a horseshoe-shaped cluster of ten islands (nine inhabited) and eight islets,that constitute an area of 4033 km².
The islands are spatially divided into two groups:
The

Ilhas de Barlavento

(English: windward islands): Santo Antão, São Vicente, Santa Luzia, São Nicolau, Sal, Boa Vista.

The

Ilhas de Sotavento

(English: leeward islands): Maio, Santiago, Fogo, Brava.
The largest island, both in size and population, is
Santiago

, which hosts the nation's

capital Praia

, the principal agglomeration in the archipelago.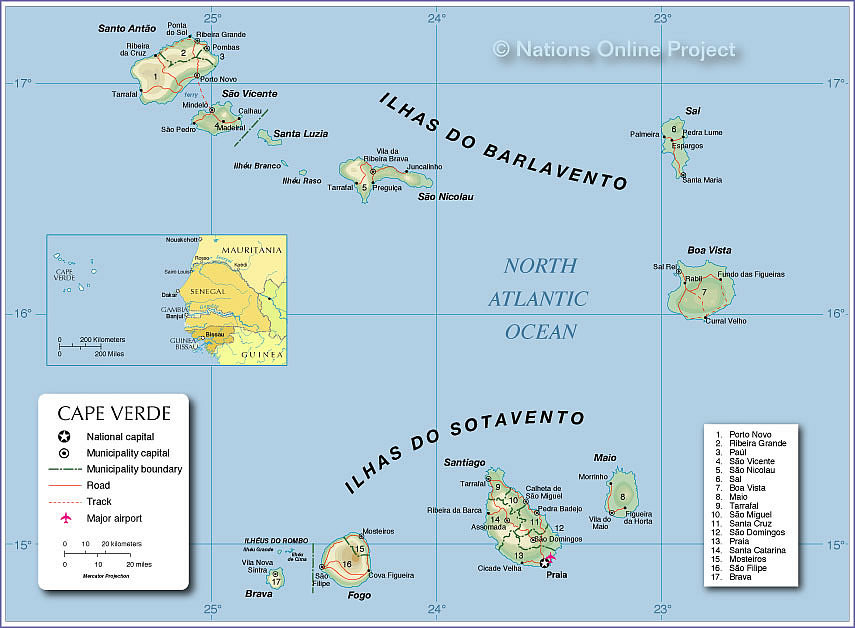 Physical geography
Though Cape Verde's islands are all
volcanic in origin

, they vary widely in terrain.
Most recently erupting in 1995,
Pico do Fogo

is the largest active volcano in the region.

Extensive
salt flats

are found on Sal and Maio. On Santiago, Santo Antão, and São Nicolau, arid slopes give way in places to sugarcane fields or banana plantations spread along the base of towering mountains.
Ocean cliffs have been formed by catastrophic debris avalanches.
Climate
Cape Verde's climate is milder than that of the African mainland because the surrounding sea moderates temperatures on the islands.
Average daily high temperatures range from 25 °C (77 °F) in January to 29 °C (84.2 °F) in September. 
It does rain irregularly between August and October, with frequent brief-but-heavy downpours.
Because of their proximity to the Sahara, most of the Cape Verde islands are dry, but
on islands with high mountains

and farther away from the coast, by orography,

the humidity is much higher, providing a rainforest habitat

, although much affected by the human presence (

Santiago, Santo Antão, São Nicolau, Fogo, Brava

)
Biome
Cape Verde's isolation has resulted in the islands having a number of endemic species, particularly
birds and reptiles

, many of which are endangered by human development. Endemic birds include Alexander's Swift, Bourne's Heron, the Raso Lark, the Cape Verde Warbler and the Iago Sparrow. 
The islands are also an important breeding area for seabirds including the Cape Verde Shearwater. Reptiles include the Cape Verde Giant
Gecko

.
Human geography
Cape Verde is divided into
22 municipalities

(concelhos) and subdivided into

32 parishes

(freguesias), based on the religious parishes that existed during the colonial period.
Demographics
Most of the population is of
creole ethnicity

, mixed from Sephardic Jewish people, African, and European descent.
Cape Verde's official language is Portuguese. It is the language of instruction and government. However, the
Cape Verdean Creole

is used colloquially and is the mother tongue of virtually all Cape Verdeans. Cape Verdean Creole or Kriolu is a dialect continuum of a Portuguese-based creole, which varies from island to island. There is a substantial body of literature in Creole, especially in the

Santiago Creole

and the

São Vicente Creole

. Creole has been gaining prestige since the nation's independence from Portugal.
The demographic statistics site ESA says Cape Verde has a population of 567,000 in 2010.
Economy
Cape Verde has
few natural resources

, scant rainfall and limited supplies of

fresh water

.  Only four of the ten main islands (Santiago, Santo Antão, Fogo, and Brava) normally support significant agricultural production,and over 90% of all food consumed in Cape Verde is imported. Mineral resources include

salt

,

pozzolana

(a volcanic rock used in cement production), and

limestone

.  Its small number of wineries making Portuguese-style

wines

have traditionally focused on the domestic market, but have recently met with some international acclaim.
Tourism is a growing source of income on the islands. The Cape Verde islands have a relatively low crime rate and beautiful beaches, as well as having engaging local people. Tourists and leisure seekers from across Europe and the world are coming to the country in larger numbers.
Culture
Cape Verdean social and cultural patterns are similar to those of rural Portugal and Africa. 
Football

(Futebol) games and

church activities

are typical sources of social interaction and entertainment.  The traditional walk around the

praça

(town square) to meet friends is practiced regularly in Cape Verde towns.  In towns with electricity, television is available on two channels (Cape Verdean and Portuguese).
Cape Verde music incorporates Portuguese, Caribbean, African, and Brazilian influences.  Cape Verde's quintessential national music is the morna, a melancholy and lyrical song form typically sung in Cape Verdean Creole. The most popular music genre after morna is the coladeira followed by funaná and batuque music. Amongst the most worldwide known Cape Verdean singers, are the singers

Ildo Lobo

and

Cesária Évora

whose songs became a hallmark of the country and its culture. There are also well known artists born to Cape Verdean parents who excelled themselves in the international music scene. Amongst these artists are jazz pianist Horace Silver, Duke Ellington's saxophonist Paul Gonsalves, Paul Pena, the Tavares brothers and singer

Lura

.
 
Enjoy this video, accompanied by a song from Cesária Évora:
Cuisine
The Cape Verde diet is mostly based on fish and staple foods like
corn and rice

. Vegetables available during most of the year are potatoes, onions, tomatoes, manioc, cabbage, kale, and dried beans.
Fruits such as
banana and papayas

are available year-round, while others like

mangos

and

avocados

are seasonal. 
A popular dish served in Cape Verde is

Cachupa

, a slow cooked stew of corn (hominy), beans, and fish or meat.
Health
Cape Verde's population is
among the healthiest

in Africa. Since its independence, it has greatly improved its health indicators, and besides having been promoted to the group of "medium development" countries in 2007, leaving the Least Developed Countries category (which is only the second time it has happened to a country), is currently the 10th best ranked country in Africa in terms of Human Development Index.
Education
Primary school education in Cape Verde is mandatory between the ages of 6 and 14 years and free for children ages 6 to 12.  Approximately 85% of the total population over 15 years of age is literate. Although most children have access to education, some problems remain. 
Football
Although the
Cape Verde national football team

represents Cape Verde abroad, many internationally known football players were born in Cape Verde, or were descendants of Cape Verdeans, and play for other nation's teams. Several currently play, or have played, in the Portuguese league or national team, such as Nani, Jorge Andrade, Rolando or Nélson Marcos. Henrik Larsson (whose father is Cape Verdean) played for Sweden, Patrick Vieira (whose mother is Cape Verdean) played for France, while Gelson Fernandes (who was born in Praia) plays for Switzerland.
Windsports
Cape Verde is famous for
wavesailing

(a type of windsurfing) and

kiteboarding

.  Josh Angulo, a Hawaiian and 2009 PWA Wave World Champion, has done much to promote the archipelago as a

windsurfing

destination. Cape Verde is now his adopted country.
Mitu Monteiro, a local kitesurfer, was the 2008
Kite Surfing World Champion

in the wave discipline. The lives of Mitu and his 2 lifelong friends Titik and Djo and their unique exposure to windsurfing and kitesurfing is chronicled in a short film by Thierry Albert and Marcus Werner Hed called "The Boys from Ponta Preta".